Twitter Review:
Full of equal parts atmosphere and fun, The Curse of Rabenstein pairs vintage commands and graphics with excellent writing to create a short and spooky adventure you'll want to solve in a single session.
Full Review:
The Curse of Rabenstein is a text adventure with graphics that was originally submitted to the 2019 Adventuron Halloween Jam, where it placed second. The Halloween-themed competition had specific requirements (for example each submission was required to contain a graveyard, skeleton, bell, and spooky building), and were limited to classic VERB NOUN commands. Since the conclusion of the contest, the game has been relocated to itch.io where it can be downloaded for a multitude of systems including the Commodore 64, Commodore 16 and Plus/4, CPC, Spectrum, Amiga, Atari ST, DOS, and any Java-enabled browser.
As the game begins, your carriage's coachman has become lost, and has asked you to travel (on foot) to a village to the north in search of shelter for his exhausted horses a rest. As if you needed any more foreshadowing, your spooky journey begins in the Black Forest in search of the Tavern of the Sad Wanderer.
In the first half of the game players must accomplish several tasks, like getting the horses into a stable and obtaining a few necessary items. The game contains so few locations that it's impossible to get lost, and essential locations and objects present themselves in a linear fashion so it's pretty hard to accomplish anything out of order. For example, No matter how many times you knock, nobody will answer the church's door… until it's time. Like many vintage text adventures, you'll have to revisit the same locations multiple times as you work your way through the game.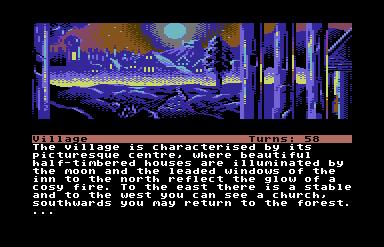 Having recently played several modern interactive fiction games over the holidays, Rabenstein's limited parser can be frustrating at times. More than once, I got hung up by trying verbs more specific than USE (ITEM). That being said, for as sparse as the game's parser is, author Stefan Vogt makes up for it with his delightfully descriptive writing. Every word adds to the game's overall atmosphere. The story of the curse, along with in-game descriptions, are wonderfully detailed without ever flooding the screen with text.
The puzzles sprinkled throughout Rabenstein aren't terribly difficult, and in at least two cases, I figured out the solution to a puzzle long before I figured out what verb the parser was looking for. There are a couple of red herrings that made solving the puzzles more fun. Twice I had to resort to reading online hints: once was because I couldn't guess the correct verb, and once because I didn't know enough about church procedure to get through one of the puzzles.
The Curse of Rabenstein was an absolute joy to play through, delivering a perfect balance of good writing, pleasing graphics, interesting puzzles, smooth programming, and an engaging story. I originally played the Commodore 64 version which was a little heavy on disk access, but the other versions played much more quickly. Players should be able to complete the game in one to two hours depending on their skill level. Beginners will be glad to find a walk-thru and invisiclues located on the itch.io site. Also available on the site is a physical edition which ships with artwork, media, feelies, and extras.
Link: 8bitgames.itch.io/rabenstein